Talent acquisition quite literally holds the future of their organization in its hands. Consistently landing phenomenal hires yields a greater long-term ROI than any established consulting firm or nifty new sales alignment tool.
Organizations are, after all, made up of people. Those with the best people have the best chance of success.
The flip side holds true as well. Consistently hiring unfit talent doesn't just remove your chances of hiring their stellar peers, it can also cripple your existing teams.
In our newest eBook: "How to Hire the Best Talent: 4 Companies that Get it Right", we examine four companies that are leveraging better screening tools and processes to make the best hires.
Here's a taste of what you can expect:
Carnival Cruise Ships
With a fleet of 24 ships, 14,000 employees, and a total passenger capacity exceeding 200,000, Carnival Cruise lines is the number one cruise operator in the world. Nicknamed "The Fun Ships," Carnival did not earn its number one spot with boring onboard entertainment and lackluster live music.
Cruise ship entertainers can't just be charismatic and entertaining. They must also possess an immense repertoire of songs they can play on request.
For a large part of Carnival's history they relied heavily on staffing agencies: costly, to be sure, but these seemed the best way to source the most versatile musical talent. Eventually this bloated system backfired. Could not fit the needs as carnival scaled its operations.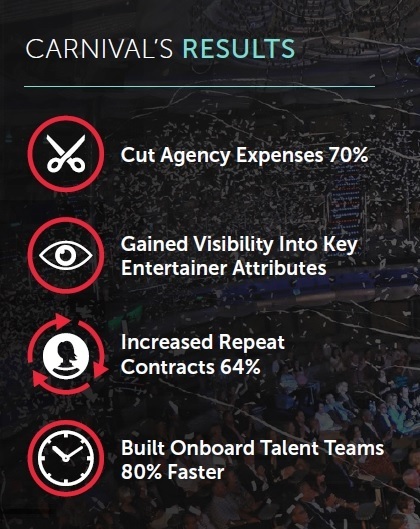 As it happened, video offered the perfect medium for Brady and other Carnival supervisors to assess the best musical talent themselves.
With on demand video interviews, Carnival staffers could evaluate how performers respond to questions with little preparation- giving them insight into one of the most crucial skills in the cruise ship entertainment industry. "If they stopped the interview then came back to complete it, we could easily tell that they weren't prepared or didn't have the skills we needed," David Brady, Casting Supervisor at Carnival, explained.
Not only did this new hiring methodology cut agency expenses by 70%, Carnival's quality of hire improved as well: the number of performers invited back for a second contract skyrocketed from 25% to 41%.
Carnival isn't the only example of how you can make better, faster hiring decisions by getting insight into the traits that matter.
The above is a teaser from our newest eBook, "Hiring the Best Talent: Four Companies That Get It Right". Get the full eBook here:
From onboard entertainers, to software developers, to salespeople, to customer support (all featured) - there's value in making more powerful screening decisions across the board.