HireVue Brand Launch 2020
I recently joined HireVue and am excited to share the story of the company and the work of our passionate and engaged team reflected in our new HireVue brand launching today.
Since HireVue was founded in 2004, the world of work has undergone massive changes. Then, the time for complete digital transformation was coming; now, it's arrived.
Virtual interviewing has gone from serving in an ancillary role for some companies, to a critical one for all companies. The sheer amount of data available to make quality decisions has increased dramatically; not to mention, what we know about using that data ethically to ensure hiring decisions are fair and unbiased.
HireVue has changed, too, and we're reflecting those changes in our new brand. Here's the story of how HireVue went from market disruptor to market leader, from being a new face in the HR tech world, to being a strategic partner to some of the largest companies across the globe.
HireVue Then
HireVue entered the HR technology marketplace as a new, disruptive force focused on structured video interviews to expedite the hiring process but also expand the diversity in the candidate pool and quality of hiring decisions. To convey our disruptive force, we used a bold red color to paint a fun, flashy font.
Our approach to hiring was, and still is, very much candidate-centered. The star in our logo conveyed that the candidate was the "star of the show."
This image represented us successfully for many years. But somewhere along the way, our clients' needs changed; so, the manner in which we serve them did, too.
HireVue Now
Today, HireVue has facilitated over 16 million virtual interviews, for over 750 customers, in 38+ languages. We have added a sophisticated set of AI and IO backed assessments to our solution set. We've demonstrated a consistent history of innovation, backed by science that is continually improving how our clients make high-quality, inclusive hiring decisions. In a world where untapped human potential is the next great global resource, HireVue has become a differentiator for global enterprises to gain a competitive advantage.
Our new brand showcases this evolution from a nice-to-have solution, to a must-have, enterprise grade business partner in a world of virtual hiring.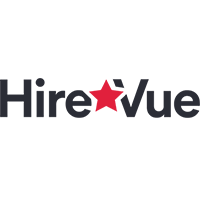 In this new world we continue to be deeply committed to understand who our clients are and what they need, and how we can best serve them.
Our promise to our customers:
A true partner to enterprise business As a partner, we're always thinking about our clients' ROI. We want our customers to get the most out of their recruitment investment by helping them effectively identify the strongest candidates out of a growing pool of job seekers, then finding the perfect match between candidate potential and organizational need at scale.
Even more committed to candidates Candidates remain at the center of our mission, so we've maintained the star that represents each candidate at the center of our brand. Candidates want a fair shot when they apply for a job. They don't want to be cast into the application blackhole where they never hear back. They want the chance to tell someone about their skills beyond bullet points on a resume/CV or application. We're committed to helping our customers continue to innovate candidate experiences that demonstrate our mutual commitment to candidates.
Experts in minimizing hiring biases The world still has a lot of learning to do when it comes to using AI in an ethical way. We've done the work, and are committed to continuing it. We are responsible and thoughtful with how we treat candidates, and in how we fight bias in the hiring process.
What we believe about the future of hiring
We believe hiring should be smart and simple. The people you hire make or break your business. It doesn't have to be complicated to find great candidates for a variety of roles, at scale. Data and technology should be used to enhance human decision making.
We also believe it should be fair and caring. Increasing diversity in the workplace has been a long fight. Systemic problems demand systemic solutions; recruiters need a powerful tool to automate the mitigation of unconscious bias, standardizing the process to make it easy, fast and fair.
Here's to a future of building best-in-class, diverse teams capable of driving positive, profitable growth.