Candidate experience matters. A poor candidate experience can cost a company in the form of lost customers, lost revenue, lost hires, lost referrals, the list goes on. A good candidate experience can result in retained or added customers, more revenue, great new hires, more referrals, and so on.
In its 2019 North American Candidate Experience Research Report, the Talent Board states, "When we recently surveyed past Talent Board benchmark research employers, the No. 1 recruiting initiative for 2020 is again improving candidate experience."
The Talent Board's report offers insights into candidate experience. At HireVue Horizon 2019, attendees got their own insights on what really matters for candidate experience from Marci Sigmund, Senior Director of Global Talent Acquisition for Caleres, Jared Bazzell, Senior Manager of Talent Acquisition for CDW, and James Spearing, Recruitment and Resourcing Leader for PwC Canada.
In "The Evolving Candidate Experience — What Really Matters?" HireVue Horizon 2019 breakout session, the 3 HR leaders shared:
How they keep their companies' candidate experiences authentic
How they use data to inform the candidate experience and recruiting
The outcomes they're seeing from better candidate experiences
The role marketing plays in helping them with an authentic candidate experience
Making the Candidate Experience Authentic
Discussions around and surveys on candidate experience don't often touch on the need for authenticity. Authenticity not only in the candidate experience itself, but in how the company portrays its employer brand before, during, and after recruitment.
For all three companies, an authentic candidate experience starts on their career pages.
Marci summed up how she makes the Caleres career site authentic. She shared, "All of the videos that are featured on our career site are people who work for us telling their stories. And we've also initiated employee-generated content so that any of our associates, whether they're doing something at home or at work, can hashtag Caleres and we'll pull it into our career site. And it's a constant social feed of what our people are doing. So for us, it is about authentic authenticity and letting our associates tell their stories.
"Whereas 10 years ago, I was writing the career site telling people, here's why you should work here and it's great. They don't want to hear from me. They want to hear from the people who actually work for us day in and day out, whether it's at a store or a factory or a distribution center or at our corporate office."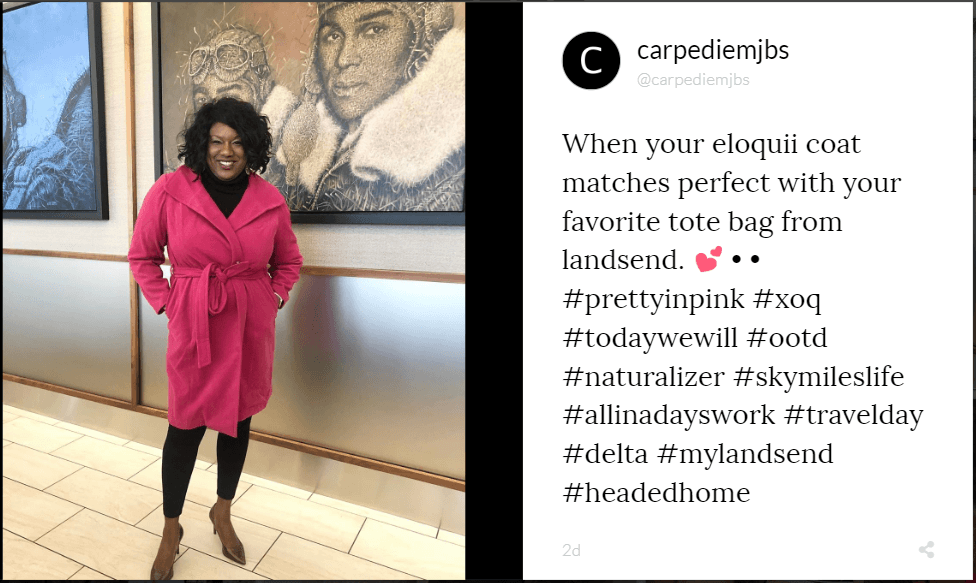 A #Caleres post from a Naturalizer (a Caleres brand) employee on the Calares career site.
Hear it directly from Marci.
PwC Canada also uses real employees in its recruiting efforts and communications. For James, that not only keeps the experience authentic, it keeps the reality of working for PwC authentic.
By letting real employees share their realities, PWC Canada avoids creating what James calls "a really big expectation gap." Candidates get a real sense of what the opportunities actually are at work. James describes it as "a concept of show don't tell."
To deliver an even more authentic experience, all three companies ensure recruiters are empowered. When recruiters align with business units and understand what those business units offer, recruiters can reflect that in their interactions with candidates.
Jared sums up starting an authentic CDW candidate experience with recruiters. One where recruiters have an authentic two-way conversation with candidates and treat candidates how they want to be treated:
Using Data for Recruiting
Marci describes an interesting approach that Caleres uses to take its authentic candidate experience to a targeted group of potential recruits. Caleres manages brands such as Famous Footwear and Naturalizer. It uses data to identify top customers and then identify how to "reach associates that we can hire that will connect with those high-value consumers."
Marci added, "In a way that is a great experience for them, but uses big data to inform our hiring decisions, not only related to the competencies that they have to run a store but also to engage with those consumers and then drive sales."
One way Calares has done that is with HireVue Assessments.
A crucial piece of data for these companies is candidate feedback. The Talent Board report found the same thing. "When given feedback, a candidate's willingness to increase their relationship with the employer group goes up 20%."
Jared shared, "So candidates are surveyed after every time a recruiter screen happens. We use a third-party product that integrates into our applicant tracking system. That same survey then goes out after the hiring manager interview. ...feedback has been so key. ...it's definitely confirmed that we're on the right path."
Seeing Results
Creating a positive, authentic candidate experience delivers tangible benefits for these companies.
James shared that PwC Canada has seen time to fill improve. He said, "...for us as a professional services organization, this is critical. Every day that role isn't filled is a day that we don't have chargeable staff out there working for the organization, pleasing our clients. So that is huge for us. Over the last fiscal year to this fiscal year, we saw a reduction of about 20% in time to fill in some of our core lines of service."
Another critical impact has been recruiter care. A better candidate experience, driven by HireVue OnDemand video interviews, helps these companies save recruiters time. Saving time lets them get away from being order takers and appointment setters. Recruiters use the time saved to add deeper value to the organization and the process.
James shared, "You know, for them [the recruiters] to really feel that they can impact the experience and that they can have a say in what we're doing. And that's been a really great impact."
The biggest impact though — ensuring candidates feel good about the experience, because candidates are customers too. That reality is felt the most by business-to-consumer companies, like Caleres. Marci sums up the keeping candidates as customer brilliantly in this clip:
An unexpected impact has been that all of these companies have saved money by using actual employees to market their employer brands. They don't have to pay actors or invest in costly video production. They use real employees to authentically communicate real company culture and value.
Jared shared, "You don't need to budget for this, right. Most of these videos are actually shot on peoples' iPhones."
Driving Results with Less Traditional Approaches
Caleres has mastered blending TA and marketing while still delivering an authentic candidate experience. Marci shares, "We kind of branched out to the internal communications team and now we all really work closely together. So that if I'm doing something, I'll see how they could repurpose it. They do the same for us; so that we are leveraging the assets that we have internally.
"We do the same thing with our eComm teams. So we've worked with eComm to create, when you search for a store that you can see the store location and then a little box pops up that says, 'You want to work here? Here are jobs at this location.'"
"Also blending the eCommerce and marketing and what we're doing from a TA perspective and then leaning on those eComm people to say, help us with our SEO. 'Hey, Forrester is going to be here. Can we talk to them about our job categories, so that they get more exposure and can you have them take a quick look at our career site to see how it's performing.'
"So relationships internally have allowed us to do a lot of things without any money at all, basically, which, you know, everyone's boss loves when you can do something for free."
CDW also uses marketing to help with its candidate experience. Jared shares his insights in this clip, below:
Hear more about how these companies are evolving their candidate experiences for ideas on how you can too. Watch the full "The Evolving Candidate Experience - What Really Matters?" Breakout Session!