But Are They Doing it Right?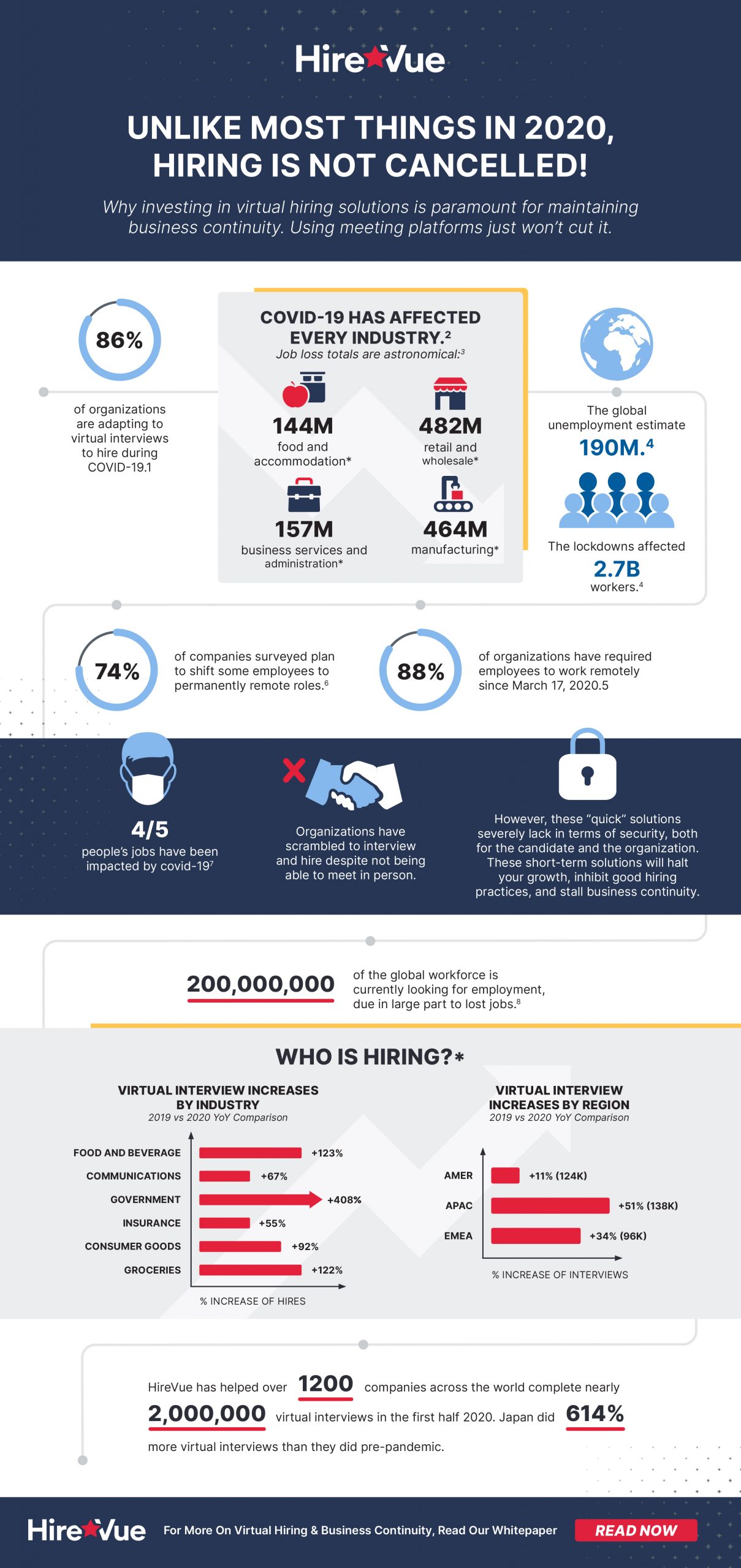 Let's be honest: COVID-19 has completely turned our personal and professional worlds upside down. Many jobs have been eliminated. On the bright side, many more have recently become available. Companies are continuing to refine and define which roles are most valuable for their organization.
In fact, HireVue did some in year-over-year comparisons between 2019 and 2020 (to date). Our internal research team found that the following regions have actually increased their hiring.
United States: + 11% APAC: + 50.58% EMEA: + 34.17% Australia: + 84%
What about jobs by industry?
HireVue also found that the following six industries have drastically increased their hiring:
Communications +69.73% Consumer Goods +92% Food & Beverage +123% Government +408% Groceries +122% Insurance +55%
With all these new and open roles, organizations need a way to hire quickly, efficiently, and safely. Many turned to free services or platforms like Zoom, Microsoft Teams, and other solutions. And, for their immediate needs, these tools worked. However, unless your company already has strong, encrypted security measures behind these free platforms, there is a serious risk of data breaches.
Moreover, these free platforms are not scalable solutions.
These free platforms don't contribute directly to your bottom line and won't help you maintain business continuity. They don't improve the hiring process; they can't help reduce interview bias. Nor are they fairly structured. Also, they're  tedious and time consuming. Your recruiters and talent acquisition teams waste time combing through tens of thousands of resumes. Let's not even get started on time wasted trying to schedule interview times.
What about companies that need to hire hundreds, or thousands, of employees as quickly as possible? Then you're looking at a serious increase in both time to fill and time to hire by using these quick, short-sighted solutions. These platforms weren't built for this type of use.
HireVue is the technological pioneer in virtual interviewing.
For nearly 20 years, we've helped companies across the globe conduct over 15,000,000 interviews. We've also helped many businesses improve their hiring processes throughout COVID-19.
What are the best ways companies can adapt to COVID-19 and remote work? According to the Harvard Business Review, one solution is to automate as many processes as you can. Powered by AI, our technology helps mitigate bias and automates much of the time-consuming minutiae that comes with recruiting. Our software integrates with ATSs, offers rapid deployment and 24/7 uptime.
Security--what does HireVue offer?
We have SOC 2 Type 2, ISO 27001, and FedRamp Certification. Also, HireVue is GDPR compliant.
HireVue's virtual interviewing solutions integrate with enterprise ATS and HCM vendors. Organizations can maintain their business continuity by handling a large applicant pool quickly and at scale.
Virtual interviewing provides both candidates and interviewers with ultimate flexibility. For instance, recruiters and hiring managers can review applicants and complete live interviews at any time, from anywhere in the world. This consistent structure creates a fair interviewing process for all, mitigating bias. Not to mention, we live in a time where reducing bias is crucial for our ongoing success as companies--as societies.
Does your current video interviewing solution offer that?
Businesses can take advantage of the branding opportunities that come with using HireVue. You are able to create the ideal virtual environment that candidates are searching for. They'll get to know your company, culture, and brand throughout a digital interviewing process.
Your organization can use OnDemand videos to review candidates at your teams' convenience. Hiring for technical talent or skill-specific niche roles? HireVue offers coding assessments and game-based interviews to bring premier talent to the top of the applicant pool.
HireVue identifies the best talent, faster than any other solution. It brings top-tier candidates to the top of your application pool. You'll be able to make the best hires who can instantly contribute to the organization--employees you can safely bet will be around for a long haul.
HireVue increases the metrics that matter most to you: interview-to-hire ratio, time to fill, and time to hire.
Is your business shaped up to maintain business continuity?