Your best hires of 2019 are already employed at other companies.
Why? The US unemployment rate is 3.6%, over a full percentage point below the "healthy" unemployment rate of 5%. "Healthy" unemployment indicates fluidity in the job market; that workers feel comfortable leaving their current job to take a chance finding another. 
In other words, the best people for your organization are already employed elsewhere - and they're not really thinking of leaving.
What is Candidate Experience?
Candidate experience is how candidates perceive and interact with the hiring process. The key components of candidate experience are the job application, the screening methods used to filter candidates, and the interview process.
Delta Air Lines' VP of Talent Acquisition, Jennifer Carpenter, explains the importance of the candidate experience.
The New Candidate Experience: Removing Barriers to Employed Candidates
For the past few years, conversations around candidate experience focused largely on corporate reputation. "Candidates are customers" is a well-documented phenomenon, and a poor candidate experience can definitely impact a former candidate's willingness to buy. 
This is still important. In the Talent Board's latest Candidate Experience Research Report, 50% of surveyed candidates who gave their experience the lowest possible score said they would be more inclined to take their business to a competitor. 70% who gave their experience the highest score said they planned on increasing their buying relationship with the employer. 
But in 2019, when a record number of people are already employed, a great candidate experience is not so much a reputation management tool as it is a hiring necessity.
In years past, great candidate experiences were identified and measured by their capacity to build up an employer's brand. Today, great candidate experiences are measured by their ability to break down barriers in the way of job candidacy.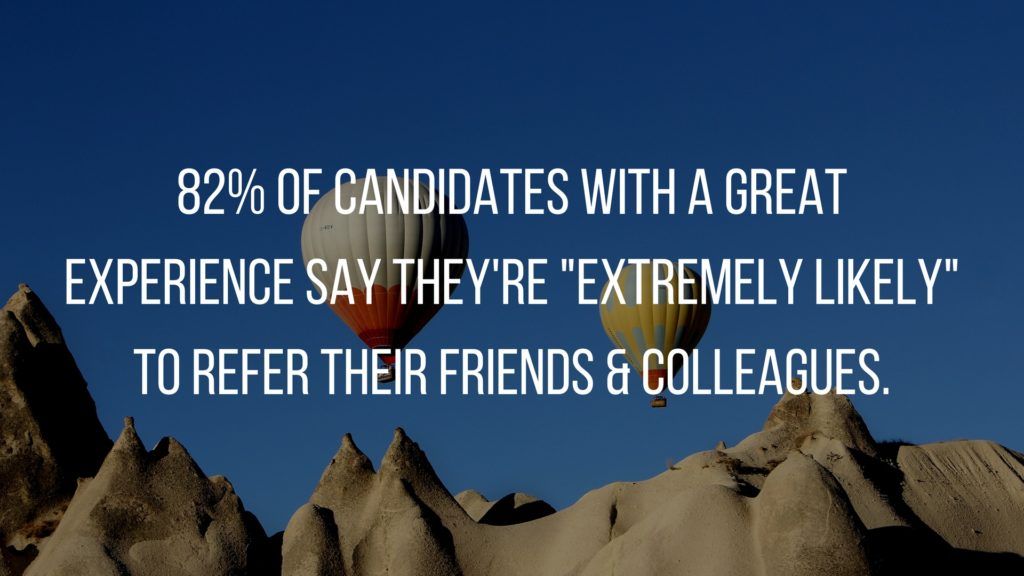 The #1 Challenge Faced by TA Leaders
In HireVue's recent survey of 600 HR professionals, 79% said "Finding enough qualified candidates" was one of their biggest challenges. Considering 2019's record employment numbers, this makes sense. 
What does that mean?
It means that the best candidate experience is the one that:
Is easiest for already employed, passive candidates to complete;

Sells candidates on your unique opportunities.
If your hiring process takes too much time, or is just generally inconvenient, it doesn't matter what your sourcing efforts or nurture programs look like: the best candidates are more than happy to stay at their current job. 
A great candidate experience:

Tailoring Your Candidate Experience to Today's Job Market
Since 2015, TA leaders have used HireVue's Candidate Experience Playbook to find inspiration for new ideas and guide their candidate experience initiatives. Over the past three years, we've surveyed more than 1.5 million candidates to get their perspective on aspects of the candidate experience.
For 2019, we've completely rewritten our Candidate Experience Playbook, providing step-by-step instructions for every aspect of the candidate experience, from job posting to job offer.
You'll learn: