What is Retail Recruiting?
Retail recruiting is a term used to describe finding and hiring the right candidates for roles in the retail industry. Customer-facing positions typically include cashiers, store managers, sales associates, and other roles necessary to make the shopping experience enjoyable. There are also retail logistics employees such as warehouse workers, stockers, and merchandisers that keep the optimal amount of merchandise on the sales floor and in backstock.
While these are the obvious distinctions of 'retail recruiting,' what truly differentiates retail recruiting is the bottom line impact. Simplified, a great team means more sales and happy customers, and the absence of a sales associate or stocker can mean lost sales opportunity.
What Are the Challenges in Retail Recruiting?
The biggest challenges in retail recruitment are managing high-volume hiring and high turnover. 12% of jobs in the United States are in retail, and the average retailer experiences more than 60% turnover each year. The result is a constant struggle to fill and backfill open roles, while store managers are trying to dedicate their time to running their stores.
Use Your Retail Recruitment Team to Move the Needle
Having a solid retail recruitment strategy is essential for talent leaders looking to manifest a high performing retail business. To accomplish this, you need to bring on engaged, knowledgeable retail recruiters who have the ability to hire motivated employees. These recruiters can find the right candidates who can turn the buying process into an experience that keeps customers coming back for more.
The most astute talent acquisition leaders understand that having the best retail recruiters creates a competitive advantage. Why? Because when you optimize your retail recruitment, you can also drive a sizable ROI. Retail talent acquisition is perfectly positioned to drive revenue!
In fact, our eBook, "5 Ways Retail Recruiting Can Drive Revenue," reveals the best strategies for hiring top-notch retail recruitment staff. These five tactics help talent acquisition leaders generate revenue and prove ROI.
Get the eBook: 5 Ways Retail Recruiting Can Drive Revenue
Where Can Retail Recruiting Impact Revenue?
There are four primary areas where retail recruitment can directly affect revenue:
The candidate experience
Time to fill
Employee turnover
Hiring manager time savings.
Let's explore each in detail.
1) The Candidate Experience
For some retailers, the percentage of candidates who are also customers can be over 50%. While that number might seem intimidating, it also presents an incredible opportunity to capture more revenue through long-term and repeat customers.

It's best practice to have your retail recruitment team focus on hiring happy, repeat customers. Ensure that you create a great candidate experience for them, too! While a poor candidate experience can hurt you, delivering a great candidate experience builds brand loyalty and keeps those customers coming back. Optimizing your hiring process means happy candidates are more likely to purchase from you in the future!
Of course, tracking the exact impact of your candidate experience can be difficult. However, our eBook discusses how to calculate this at scale while minimizing turnover! In addition, we cover multiple approaches to exacting revenue numbers from candidate experience and retail recruitment.
2) Your Time to Fill Metrics
The average time it takes for retail recruiters to fill a roll has doubled in the last 9 years.
Much akin to sales roles, it's relatively simple to calculate your retail recruitment team's impact on revenue by using a little math. Typically, you accomplish this feat by decreasing your time to fill. Then, you can use the average daily output per retail recruiter to calculate the cost of vacancy. Lastly, evaluate the impact of decreasing vacancy time.
For example, let's consider how this works in sales, again. If a single salesperson generates an average of $500 in daily revenue, your organization effectively loses $500 each day for every vacancy in your sales force. However, suppose your average retail time to fill (vacancy time) is 40 days. If you cut your time to fill down to 20 days, you increase your organization's revenue potential by $10,000 per hire (20 x 500).
Now imagine empowering your retail recruitment team to do the same! You can use the same formula to calculate revenue from decreased vacancy time.
In addition to decreasing time to fill, our eBook highlights four other crucial ways to increase hiring speed and generate a stronger ROI for your organization.
3) Employee Turnover
It costs, on average, $4,000 for retail recruiters to backfill vacant roles. The average annual turnover rate in retail is 60%. While your organization's numbers may vary, calculating cost of turnover per store is relatively simple.
Especially when it comes to retail recruitment.
Here's the formula:
Percent Annual Turnover * Number of Employees per Store * Cost to Backfill

=

Cost of Turnover per Store
A retailer with 1000 locations, 40 employees per store, and an industry average 60% annual turnover should expect an annual cost of turnover around $96,000,000. That's quite a figure, especially when it comes to retail recruitment. Imagine the ROI you could deliver with a lower turnover rate.
4) Hiring Manager Time Savings
Hiring managers can spend between 10% and 30% of their time screening and interviewing candidates. This is time they can't spend developing employees, managing their store/department, and/or selling to customers. All of these activities generate revenue in one way or another.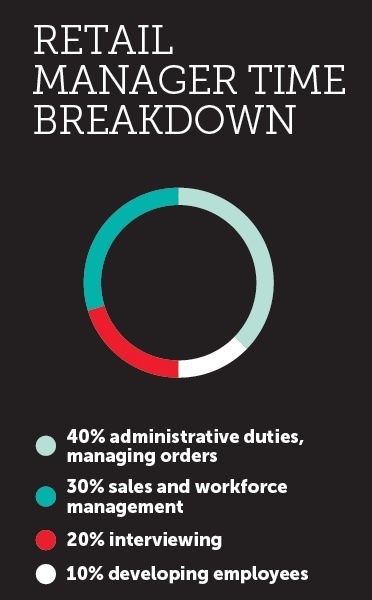 By optimizing your retail recruitment operations, you can remove much of the burden on your hiring managers. You can empower them, and your retail recruiters, with technology and serve up only the best candidates for the store.
You can accomplish this feat by using technology that offers the following:
You'll see some best practices for each of these hiring approaches in the full eBook:
Get the eBook: 5 Ways Retail Recruiting Can Drive Revenue
If you're wondering how to drive revenue from your retail recruitment operations, you need to read this eBook today. 
We also detail how to reduce turnover while increasing hiring speed, proving ROI, and optimizing the entire candidate experience at scale. You'll learn four retail recruiting strategies that greatly decrease hiring time while improving quality of hire.