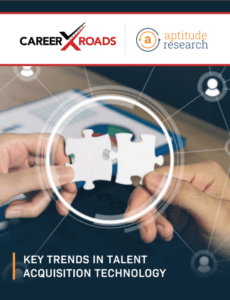 In August, HireVue partnered with Chris Hoyt, president and co-owner of CareerXRoads, and Madeline Laurano, founder of Aptitude Research, to discuss key talent acquisition trends taking place in the TA technology space. Their findings were gleaned from CareerXroads' interviews and surveys with leading TA professionals and Aptitude Research's studies done over a 6-month period. Insights were shared in a webinar hosted for HireVue where attendees received an advanced copy of Chris and Madeline's report, Key Trends in Talent Acquisition Technology. 
The report is now available for everyone to download. In it, find:
Key TA technology trends happening now.
Suggested strategies to evaluate and adopt those technologies.
The TA tech solutions that stand out above the rest and how successful companies are using them
How to evaluate TA tech solutions for your company
Read the report to discover the TA tech landscape and glean valuable insights from CareerXroads' and Aptitude Research's investigations.
The Shifting TA Tech Landscape
In the report, CareerXroads and Aptitude Research talk about the shift in how TA teams are evaluating tech today. Their findings provide a baseline that all TA professionals can use in what to watch for on the TA tech horizon, what TA tech to be considering now, and how to approach evaluating and implementing that tech.
One of the report's insights is that "it's not uncommon for many companies to have upwards of 30 different solutions in place for recruiting alone." The main reason is the sheer variety of tech solutions available to TA teams today. That combines with the traditional focus on TA tech as a transactional solution for solving a single problem. That singular focus though is evolving to focus on a suite of solutions — or singular platforms — for solving multiple problems at once.
The report aims to help teams cut through the clutter of all the options and help TA teams evolve their focus by highlighting solutions that repeatedly and regularly came up in the interviews and research used to cull the report's findings. 
Key Insights
The report offers a look at the current TA landscape. It dives into what tech is in use today, where companies are headed with tech, and how companies are benefiting from it. Key insights include:
The most popular TA tech solution in use today is the applicant tracking system (ATS) and 80% of companies have one in place.
For those companies using TA tech:

56% see a reduction in time to hire.
35% reduce their costs of recruitment.
30% improve the quality of their hires.
Just one in five companies currently measures the ROI of their investments in  TA tech.

60% of companies plan to invest more in recruiting technology this year.
The report points out that the three core components of TA tech are fairly standard for all companies and comprise some form of a candidate relationship management solution, an ATS, and an onboarding system. But, the ecosystem of options to support these core components is vast and can be "overwhelming" to navigate. That ecosystem includes solutions for sourcing candidates, screening candidates, interviewing, analytics, and assessments, among others.
Key Talent Acquisition Trends in Tech
In researching the report, CareerXroads and Aptitude Research identified four key trends in the current talent acquisition technology landscape:
Recruitment automation technologies and platforms to automate some or all of the recruitment process
Technologies for candidate communication and scheduling interviews
Technologies or platforms for recruitment marketing on a wide scale
Adoption of assessments driven by "the need for more science and less bias in the talent acquisition process"
How You and Your Company Can Benefit from the Report 
What do the report's findings mean to you and your TA team? 
One of the report's more notable takeaways is the high rate of planned investment (60% of companies) in recruiting technology. The job market is competitive today and talent is in short supply. If competitors for talent are investing in recruiting tech, that's an indicator that your company may want to invest in it as well if you're not already.
But how do you sort through your available options? Especially when you're focused on people and not technology? 
Regardless of where your company is with its adoption of TA technology, the report shares key strategies and considerations you can use to evaluate existing providers and ensure successful adoption and use of your TA tech stack. 
Case studies outline and put perspective on real companies with real challenges and how different TA tech solutions have helped those companies solve their own challenges.
Key technology providers in each trend area are included to give you insight into the vendors that other companies are relying on and having success with. 
And a comprehensive solution provider evaluation toolkit provides questions you can ask as you evaluate prospective technology providers':
Company backgrounds
Product backgrounds
Key differentiators
Product capabilities
For an overview of things to consider as you evaluate your own tech stack and plan for the future of hiring, download your copy of the report today. 
Download Your Free Copy of the Key Trends in Talent Acquisition Technology Report